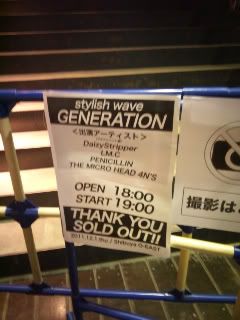 The live was sold out, which was unusual for a working week day, and Hoshiko-san even said that there were so many kankeisha (those in the music business who had invitations, press, friends etc.) that they had to come, watch only the part they wanted to and leave since there was no place for everyone.
A few minutes before the start we were interviewed for V流儀 TV program. Since we came to see TMH4N'S and TV people wanted fans of the bands that already had something released N., who was also a fan of Daizy Stripper, ended up being filmed. Too bad for her it's not going to be aired in Nagoya so she'll probably never know what she looked like on TV lol
At times I had a very strong feeling of a déjà vu. There were so many people whose faces I knew, D'espa fans and their former staffs. A woman selling TMH4NS's goods and their roadies were all people that used to work for D'espa.
Stylish Wave is different from the usual vk event lives since they put a lot more effort into entertaining the audience. This time DJ Asai (Beat Shuffle) was hosting the show and he interviewed the bands after their sets while the next band was getting ready to play. About 10 min before the start DJ Asai appeared on the stage together with Hoshiko-san and they talked a little about the event and that the idea behind it was to bring together bands and audiences of different generations (thus the title of the show) and it was Penicillin's Chisato who gave him an idea. They joked a lot and Hoshiko-san said that he was not the oldest person there and then pointed at Shoji Noriko sitting on the second floor ;D
Daizy Stripper were the first to play and blah-blah-blah rewind. THE MICRO HEAD 4N'S were next! Ψ(`▽´)Ψ A few minutes before their set I turned around and looked at the second floor just in time to see Hizumi and Karyu squeezing their way to the seats right in the center next to Noriko-san. Karyu looked awfully uncomfortable, he was probably aware of everyone staring at them. I was very happy to see the two of them being there for Zero and Tsukasa.
TMH4N'S played five songs total and from the very start I absolutely loved it – heavy guitars and drums and Ricky's melodious voice over them. No lame hand movements I saw in his videos either so I won't badmouth him ever again, promise Ψ(`▽´)Ψ I loved the first and fourth (heavy but with a techno beat to it) songs, while the rest had a more pop sound, but were also difficult to grasp right away, so I'll wait until I hear more. During the MC Ricky was the only one to talk. Everyone screamed for Zero to say something too, but they didn't have enough time to do that and event lives with several bands playing leave little room for idle chit-chat. He told us how Kazuya asked him to join the band, but since he had other projects he was involved in he said that he would think about it. However, next time they met Kazuya told him: "So about playing with us? By the way our first live has already been decided." lol Someone seems to have been determined to make this band happen. He mentioned that it had been five month since their formation so that means July. Ricky also announced the MOSTER'S ROAR lives they organize in February and March, but when several people laughed at the title (I don't know, maybe it was just a happy laugh), he was like: "Why are you laughing? We thought so hard, because we wanted a cool title! This is not a laughing matter!" Ψ(`▽´)Ψ
After their set DJ Asai interviewed Zero and Shun and they talked about MONSTER'S ROAR lives, their website finally being opened (Zero was the one who created it) and that no releases have been decided yet. Zero was his usual calm and quiet self, but Shun seemed to have been overly nervous and excited. He admitted that he was so nervous before the live he felt sick lol And yet he looks so ~manly~.
After TMH4N'S set and interview were over we split and three of us went to the goods table. I bought a sticker and one cheki, too bad no D'espa luck for me that day - I got Kazuya. By the way Hizumi and Karyu left the moment TMH4N'S finished playing and while they still waved their good-byes to the fans. We watched Penicillin play one song from the back of the hall and after that left without a single glimpse at LM.C. Which is something I'm quite content about it *gags at the thought of LM.C.* We had to make it in time for the last shinkansen train back to Nagoya, and we barely did, but unfortunately it also meant that we didn't get to see the last part when all bands got on the stage for the final greeting. Oh well, I am glad I got to see TMH4N'S play their first live and that they did not disappoint me ;)
At first I resigned myself to the fact that I wouldn't be able to go to Stylish Wave Generation live since it was on Thursday and I didn't want to ask for a day off just two month after I started a new job. But miraculously my boss was the one who brought it up and said that I should take days off if I wanted to. Actually I have only two days off until the end of the year, but it was more than enough for Stylish Wave. I was not going to a miss a chance to see Zero and Tsukasa play their first live with the new band! Moreover it was a lot of fun since I went with three of my friends - Nagoya invasion! lol We met with two more friends and killed time before the live in shopping in Harajuku and then in a cafe in a movie theater right across the street from O-East.
Current Mood:

good